3DMark 11 tests on an AMD laptop were filtered. It was equipped with a Ryzen 5 4500U and an RX 5300M.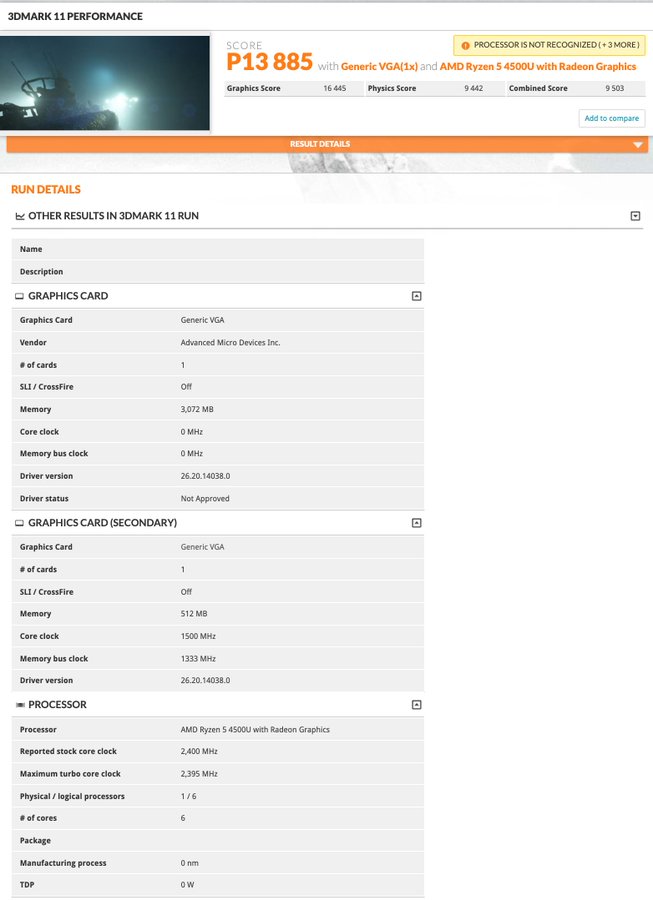 New information about the mysterious Ryzen 5 4500U comes to our attention, a chip that will be very much in demand in the low-power sector. Not only does it look like it, but we've also seen an RX 5300M accompanying it, like a Microsoft laptop. We believe that the final test was done on the upcoming Surface Book 3 laptop. Here are the details.
AMD Ryzen 5 4500U: new benchmarks and collaboration with Microsoft
Watch out for what's coming on the laptop sector, because AMD is ready to fight. This time we bring you a 3DMARK 11 benchmark that shows the results of a Ryzen 5 4500U together with an RX 5300M. There are rumors going around, and that's normal, because it's a somewhat odd combination, but there may be an explanation.
The AMD chip scored 13,885 points. This 6-core and 6-wire processor has a base frequency of 2.4 GHz and a supposed turbo frequency of 4.0 GHz. The computer used does not specify which graphics card accompanies it, but the Twitter user who leaked this information, _rogame, hinted that it would be an RX 5300M. It would have 3 GB of memory, but we don't know more details.
On the other hand, _rogame also filtered another test using the same processor but with a different computer. In this case, it is a computer manufactured by Microsoft and powered by a Ryzen 5 4500U which, together with the Ryzen 3 4300U, is the least powerful processor in the range. This means that we may see a Microsoft Surface Book 3 powered by an AMD Ryzen, which would be great news.
Several combinations are being considered:
Ryzen 5 4500U or Ryzen 7 4700U with RX 5300M on 13.5-inch machines.
Ryzen 5 4600U or Ryzen 7 4800U with RX 5500M or RX 5600M for 15-inch versions
This is further proof that the Ryzen 4000 series has broken through the big door into the notebook sector. We will have to wait longer to see new details of these 7-nm chips.